Senyo's Story
Four years ago, young Senyo and his three older brothers were trafficked to a fisherman to work on Lake Volta. Senyo's father was deceased and his mentally ill mother was unable to care for them. His maternal grandmother was taking care of Senyo, his siblings and cousin. They lived in Adafianu, in the Volta region, near the beach in a coconut palm shack, which provided inadequate shelter, especially when it rained. Because of her impoverished condition, the grandmother struggled to survive so she gave Senyo and his brothers to the fisherman. Senyo, whose real age is unknown, is about 10 - 12 years old, although he appears younger due to malnutrition and his physical disability.

Senyo and his brothers were healthy when they were trafficked to work on Hanikpo, an island on Lake Volta near Kpando-Torkor. They worked long hours bailing water from fishing boats (canoes), mending nets and diving into the water to disentangle nets that were caught on submerged tree trunks.
---
The canoe on which they worked was usually slippery because spirogyra, a freshwater algae, covered the wood surface. One day, Senyo slipped and fell, hitting his chest against the canoe seat, fracturing several bones in his chest and back.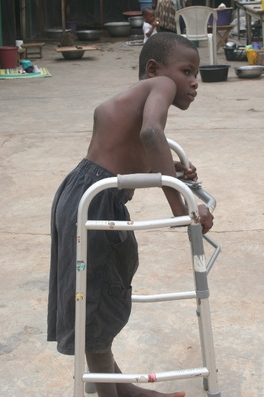 The severe injury led to Senyo's complete incontinence and inability to walk unassisted. He experienced excruciating pain, but was never taken to a hospital for treatment. Instead, Senyo's master and wife used hot compresses on his injury to no avail. According to Senyo, he was still forced to work on the lake. His master later took him to see an herbalist for treatment and he left him with this stranger. Two years dragged by as Senyo remained with the herbalist and was further traumatized. He was starved, beaten and forced to crawl to the herbalist's farm to sweep the large compound. When he soiled himself, he was beaten and forced to clean up. And unbelievably, the herbalist forced him to dance to music.

Fortunately, the intervention of a concerned neighbor led the Department of Social Welfare and Eric Peasah to rescue Senyo. He is now under the protective custody of Social Welfare and safe at a shelter in Kpando, supported by RTBF. Senyo's traumatic childhood has left psychological and physical scars. He usually appears pensive and does not trust others. He wants to go to school and church but is unable to given his disability. Senyo wants to become a police officer so he can arrest his former master and others that traffick children.
---
RTBF took Senyo to the
FOCOS Orthopedic Hospita
l
in Accra for evaluation. After a series of tests, Dr. Amatefe Mawuli Kwami diagnosed Senyo with five crushed vertebrae
(T6-T10)
, which are compressing his spinal cord, and he will require life saving spinal reconstruction surgery. His surgery will cost over $18,000. RTBF and FOCOS have raised the funds needed for his surgery! Read updates on Senyo's progress
here
.
Video of Senyo.
---