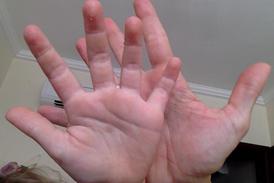 5 For Freedom Campaign
Small Donation. Big Impact for Ghana's trafficked children.
---
Here are the quick and easy steps.
1. Donate $5 to Right To Be Free. If you'd like the funds to be used for
Senyo'
s medical and living/education expenses, please include a "5FF" message with your donation. You can submit a message on the last donation page.
2. Multiply the impact of your gift by sharing this campaign with
5
people (family, friends, co-workers, etc). Ask them to donate $5 to help Right To Be Free rescue and rehabilitate enslaved children (or to help support
Senyo's
medical needs). $5, 5 friends, in 5 seconds. Done! And with our immense gratitude! This is a critical step to the success of the campaign.
3. Help spread the word on social media! Visit our
Facebook
page, "Like" it and share your freedom fighter status on our (and your) Facebook page. Post a photo or video of yourself holding up your hand with the message "5 For Freedom", "#5forfreedom" or your personal message. Camera shy? No problem! Post a photo of your hand or trace it and decorate your hand print, with your freedom message. Or print out and decorate this
hand print
. If you include your city, state or country, we can see how far the campaign is reaching. Be creative and have FUN! Your efforts will make a real difference in the lives of trafficked and enslaved children.
Watch and share this great
video
that August and his third grade classmates made to promote the campaign.
Are you on Twitter? Send us a Tweet
@rightobefree
using
#5forfreedom.
We hope you'll participate in some way to help raise awareness of Right To Be Free and the 5 For Freedom Campaign. Create your own campaign video like August and his friends. Contact us if you have any questions or ideas. We're excited to see the fun, inspirational and creative messages, artwork, photos and videos! THANK YOU!