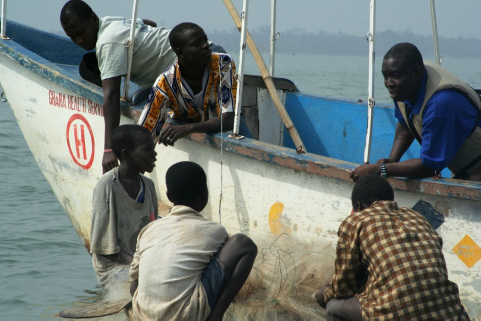 Rescue - Fishing Industry
During the year, the RTBF team, led by Eric Peasah, travels to the islands along Lake Volta, researching trafficked children. These long exhausting trips require a solid four wheel drive vehicle to navigate the unpaved roads and a boat and operator to take the team to the numerous islands along the lake. These annual expenses are investments in the freedom of every child that is subsequently rescued.
Lake Volta, created by the Akosombo Dam, is the world's largest reservoir by surface area (3,275 square miles) and the fourth largest by water volume. This is where trafficked children are forced to risk their lives every day working in the hazardous fishing trade.
A rescue mission typically consists of more than three trips to Lake Volta, over a period of six months, to save all the children identified for rescue. Sometimes their masters refuse to release a child, despite prior discussions and agreements. Therefore, the team must return to follow up with the fisherman. When fishermen agree to release a child, they must sign a social contract pledging to no longer traffick children and to eventually release any remaining child laborers, or they will face criminal prosecution.
NO
money is ever paid to the fishermen to release their "property". On occasion, Eric may offer to provide them with new fishing equipment (e.g. nets), to assist with the creation of a cooperative with other fishermen to create a fish pond along the lake with large nets and feeder fish, or to learn a new vocation such as carpentry or farming.
Last year, Eric Peasah rescued 21 young children (17 boys and four girls) from the fishing industry. They are now enrolled in school (except for one boy named
Senyo
).
Read more:
Rehabilitation
and Reintegration.