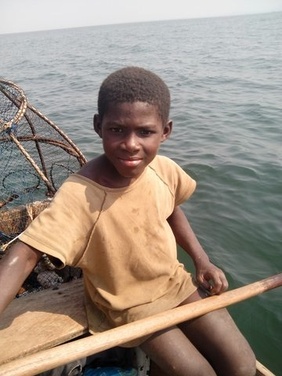 Kofi is one of the young children Eric Peasah (Founder,
RTBF/Africa
) and his team have been monitoring and hope to rescue in March 2014. When Eric and his team came across Kofi and his master working on Lake Volta one day, they had been fishing for hours. Almost seven years old, Kofi's small muscular frame is perfect for diving in the water and untangling the fishing nets beneath the boats.
When Eric boarded the canoe, Kofi was too fearful to talk as he nervously looked over his small shoulders at his master. He told Eric he is severely punished when he doesn't do something right. If he can't untangle the fishing net underwater and his master must do it, he is beaten.
Kofi told of being trafficked four Christmases ago. Bonded and exploited child laborers count years by the number of Christmases the villagers celebrate. Village children receive new clothes and a bottle of Coke for Christmas, but trafficked children like Kofi receive nothing. His master told Eric the boy was his nephew, but Eric knew otherwise. Kofi said he wanted to go to school like another boy in the village. Eric asked why and he said "Because when he comes home at night he tells me about school and I want to go too."
Eric asked Kofi why he thinks the other boy goes to school and Kofi said "Because he lives with his father." This further confirms that Kofi does not live with his father or uncle and is trafficked.
At the tender age of seven, he faces years of backbreaking labor as the "property" of a fisherman who purchased him for less than $50. We hope to rescue Kofi so he will no longer spend Christmas working on Lake Volta. We can make Kofi's dream of going to school come true.